Member Security
We prioritize the security of our
members and their sensitive information.
4Front Credit Union prioritizes the security of our members and their sensitive information. Financial transactions attract unsavory and sometimes illegal attempts to gain access to your monies and/or sensitive data. These measures may take many forms and be attempted through multiple channels. Educate yourself to ensure your personal safety, finances and sensitive information are not threatened.
FRAUD ALERT: 4Front Credit Union's phone number is being spoofed (when a caller deliberately falsifies the information transmitted to your caller ID display to disguise their identity). These scammers are socially engineering members to provide details about their account information and personal identity. Please remember that 4Front Credit Union will NEVER ask for online banking credentials, full debit or credit card numbers (CVV or PIN number), or your full social security. This is confidential information your credit union already has on file. In addition, companies like Amazon and Microsoft are being spoofed and impersonated. These types of companies will NEVER ask for the 6-digit secure access codes sent to your phone or email or your online banking credentials or instruct you on how to respond to a fraud alert text message. Do not share any personal information, and end the call if you suspect you're not talking to a legitimate representative from any company. Contact 4Front Credit Union at 231.929.2000 if you believe your account may be at risk.
Identity theft occurs when someone uses your personal information, credit cards, checks or driver's license without your knowledge to commit fraud or theft. Identity theft is one of the fastest growing crimes in the United States.
How does identity theft happen?
Despite your best efforts to manage the use of your personal information, skilled identity thieves may use a variety of methods to gain access to your data. Some of these methods include stealing wallets and purses, as well as changing the address on credit accounts to divert mail to another location. They also steal mail from mailboxes or rummage through garbage looking for personal data.
How do I reduce my risk of identity theft?
Here are a few tips to minimize your risk:
Enroll for free in 4Front's industry-leading MemberPass® Digital Account Authentication platform.
Don't carry your Social Security card, passport, or birth certificate with you except when necessary.
Carry only necessary debit/credit cards and ID.
Don't give out your Social Security number, mother's maiden name or account information over the phone unless you are sure the caller is legitimate or you initiated the call.
Don't place paid bills with checks or payment information in your mailbox for pickup.
Have your mail held by the post office if you will be away from home for an extended period.
Shred all credit card receipts, solicitations, canceled checks and other financial documents before throwing them away.
Have your name removed from mailing and solicitation lists.
What should I do if I believe my identity has been stolen?
Contact your local police department immediately and report an identity theft. Most fraudulent use of cards or checks takes place within days of the items being lost or stolen. Notify the creditor and 4Front Credit Union immediately 800-765-0110. Contact the fraud departments of the three major credit bureaus and request that a "fraud alert" be placed on your name and Social Security number. Retailers and financial institutions often use these three major bureaus in lending decisions. The fraud alert may help prevent someone from using your identity to get credit.
Experian: 888-EXPERIAN (888-397-3742)
Equifax: 800-766-0008
TransUnion: 800-680-7289
File an identity theft report with the Federal Trade Commission (FTC). This can be done by calling the Identity Theft Hotline at 877-IDTheft (877-438-4338), or online at the FTC's ID Theft website.
If your Social Security number has been used fraudulently, contact the Social Security Administration Fraud Hotline by calling 800-269-0271.
Learn more by visiting the Identity Theft Resource Center (ITRC). The ITRC is a non-profit organization established to support victims of identity theft in resolving their cases, and to broaden public education and awareness in the understanding of identity theft, data breaches, cyber security, scams/fraud and privacy issues.
One of the largest fraud threats is skimming. With this type of fraud, thieves use skimming devices to collect private data from debit, credit and ATM cards.
The most common devices used to collect, or skim, your information include fake card slots, cameras, and mobile phones. Skimmers often target gas stations, retail stores, and ATM's. Handheld skimming devices can also be used at restaurants as you pay.
Gas Stations
Check the pump for any suspicious or tampered card slots.
Choose credit over debit to avoid entering your PIN.
If entering your PIN, cover your hand when you enter it.
When in doubt, go into the gas station and pay the attendant.
Restaurants and Retail Stores
Choose credit over debit to protect your PIN from being detected by a skimming device.
Check your monthly account statements to identify any suspicious activity.
ATMs/ITMs
Be aware of your surroundings and leave immediately if you feel unsafe.
Check the ATM or ITM for loose parts like the card slot, money dispenser, or ATM/ITM screen cover.
When entering your PIN, cover your hand when you enter it.
Phishing is a scheme used by fraudsters posing as a financial institution, ATM/debit network, credit card company, online retailer or other service provider to trick unsuspecting individuals into disclosing personal financial information. Typically, a target would receive an unsolicited email or phone call that appears to be from an organization asking you to verify personal or financial information. These are organizations that, in some way, may be connected to your checking or savings account, such as your financial institution, utility company or payment company. To encourage immediate action, the request usually warns that an unauthorized transaction has taken place on your account, or that your service may be interrupted or shut down unless you confirm your information.
How can I recognize a phishing email?
If the phishing attack is in the form of an email, it may use the name, logo and website attributes of a legitimate business. It is sometimes difficult to tell the difference between a legitimate email and a phishing email. Here are some tips on what to look for:
The return email address is not associated with the correct domain name (or web address).
The greeting is generic and doesn't address you by name or appears incomplete.
URL's included in the email feature page links are lengthy, contain random characters and don't include the correct domain name.
The email requests confirmation of personal information such as account number, SSN, etc.
Spelling or grammatical errors are present, the image quality is poor and threatening language is used.
An extreme sense of urgency may be communicated.
We've generated an a example of a phishing email to further illustrate features that may tip off a target to the attempt to defraud them.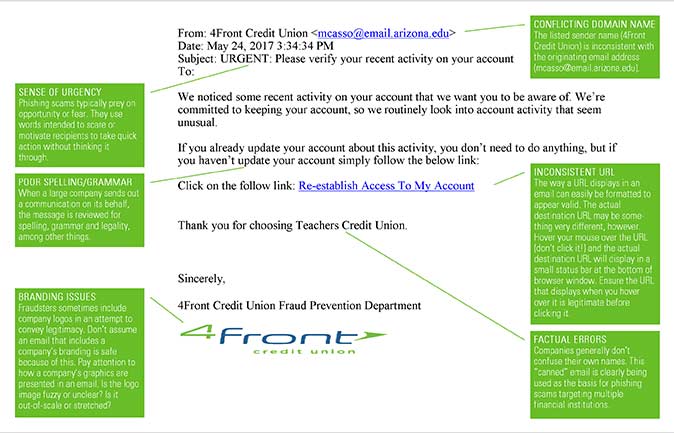 Finally, please note that 4Front Credit Union will never email its members to request or verify personal information.
How can I protect myself from phishing scams?
Phishing emails are becoming more strategic as cyber thieves learn what techniques are most effective. More effectively protect yourself from these scams by employing the following tips:
Do not reply to unsolicited emails or pop-up messages asking for personal or financial information.
Do not click on an email link if you suspect the message is fraudulent, not even to "unsubscribe." Instead, call the business to confirm the legitimacy of the email. Never send personal information.
If you initiate an online transaction and are required to provide personal data, look for indicators that the website is secure, like the "https" in the URL or padlock icon.
Use anti-virus software, anti-spyware and a firewall.
Review account statements regularly to verify all transactions.
Report all phishing attacks at once, and if necessary, file a complain using these resources:

File a complaint with the Internet Crime Complaint Center (IC3) at www.ic3.gov. The IC3 was established by the FBI and the National White Collar Crime Center (NW3C) to serve as a means to receive Internet related criminal complaints and to further research and refer to federal, state, local or international law enforcement for investigation.
Forward the email in question to the Federal Trade Commission's (FTC) deceptive spam database at spam@uce.gov. The FTC and its law enforcement partners use the database to generate cases against people who use spam to spread false or misleading information about their products or services.
If you believe you have been the victim of an internet scam, you may file a complaint with the FTC.

Change your debit card PIN periodically.
If you believe you have provided personal or financial information in response to a fraudulent request, report the incident to your account provider(s) as soon as possible. Keep a record of the names, account numbers and customer service numbers for all financial accounts you maintain. Also, report the theft to the three major credit-reporting agencies:
Review your credit report every year. Federal law requires each of the three credit bureaus to furnish consumers a copy of their credit report annually at no charge. Take advantage of this service by visiting www.annualcreditreport.com to request yours.
If you have any questions regarding member security, call 800-765-0110.
With lenders becoming increasingly selective, many people are looking for fast, easy ways to fix their credit history. Members need to be very careful when searching for or using a credit repair agency. In some cases, consumers are being charged for work they could have done on their own for free. In the worst case scenarios, consumers are encouraged to engage in illegal activities.
Offers for credit repair are common in radio, television, newspaper, and direct mail advertising. The Internet is home to countless credit repair sharks. Some requiring consumers to pay large fees upfront and in return may promise to erase any blemishes on credit records, get new Social Security numbers for clients, or allow consumers to piggyback on someone else's credit record.
The truth is, no one can legally remove accurate and timely negative information from a credit report. It's nearly impossible to get a new Social Security number, and piggybacking on someone else's credit may be considered as loan fraud.
If you use a credit repair service, be aware of companies that:
Don't tell you your legal rights and what you can do for free.
Recommend that you not contact a credit bureau directly.
Ask you to pay for credit repair before any service is provided.
Advise you to dispute all information in your credit report.
Offer to let you "piggyback" on other consumers' good credit.
Take any action that seems illegal, such as creating a new credit identity by obtaining a federal employer identification number to use instead of a Social Security number.
The Identity Theft Resource Center warns that tax season is a particularly active time for identity thieves. The documents taxpayers send and receive this time of year contain all the information identity thieves look for: your name, address, bank and financial account information, and most importantly, your Social Security number.
The Identity Theft Resource Center wants businesses and consumers to be careful when handling tax-related documents. Here are some tips on how to minimize the risk of identity theft:
Paper Security. Keep tax paperwork in a safe, locked location. Financial documents can be lost or stolen if left unguarded for even a few minutes.
Document Disposal. Put papers you no longer need through a shredder. This includes receipts, papers with credit card account and Social Security numbers (such as health benefit payment and income reporting forms), and loan documents.
Computer Security. If your computer is linked to the internet, make sure to have updated firewall, antivirus, and spyware software to protect you from invasion.
Mail Theft Prevention. Retrieve your mail every day. Uncollected mail is an invitation for an identity thief. When mailing tax documents, always take them directly to the Post Office, preferably dropping them in a box inside the Post Office.
Tax Preparers and Personal Privacy. Be selective about who does your taxes. Investigate tax preparation companies with the Better Business Bureau. Ask how your information will be stored, what computer security software is used, and if the person working on your taxes has undergone a thorough background screening.
Tax Time Scams. If you receive an email asking for your Social Security number or financial information, delete it or notify the Federal Trade Commission for investigation. The IRS does not send emails stating you are being electronically audited. They also don't contact you by email about refunds which require you to provide checking account information.
4Front Credit Union encourages all of its members to observe basic safety precautions and exercise discretion when using an automated teller machine (ATM) or VideoTeller interactive teller machine (ITM).
Prepare for ATM/ITM transactions prior to approaching the terminal.

Keep your receipts, do not lend your debit card to anyone, and do not leave your card or any other documents at the ATM/ITM or any night deposit facility.

Treat your debit card the same as cash and keep it secure.

Keep your personal identification number (PIN) secret and memorize it. Do not provide anyone information regarding your card or PIN over the telephone.

When using an ATM/ITM, place your body in a position to prevent others from observing your PIN when entered.

At any ATM/ITM or night deposit facility, keep a lookout for any suspicious activity near the facility and make sure all approaches to the facility are well lit.

Conceal cash received from the ATM/ITM and count it after you have left the terminal.

If anyone offers assistance while you are operating an ATM/ITM, do not accept it. If you have initiated a transaction, consider canceling the transaction and leaving the ATM/ITM location.

Compare your receipts to your monthly statement and notify us immediately if you suspect that an error or unauthorized transaction has occurred.
In the case of a lost or stolen debit card, please contact 4Front at 800-765-0110 (after hours at 800-472-3272 or 614-564-5101 outside of the country).