Old Mission Acquisition Frequently Asked Questions
We are excited about what the future holds! We are working hard with Old Mission to make the transition for Old Mission customers as smooth as possible. These are questions that we have been asked so far. We will keep updating this page as we hear more from you.
Will I become a 4Front Member? And what does that mean for me?
Yes, you will become a 4Front Credit Union member. Becoming a member of 4Front Credit Union means you'll become a member-owner. As a not-for-profit cooperative, rather than focusing on profits for shareholders, our members' needs are our top priority. We actively work to help improve our members' financial-wellbeing by offering free financial education and top-of-line technology. We strive to offer better rates and lower fees to help save you more in the long run. Overall, being a 4Front member means being a part of a financial institution that puts you first, works hard to help you meet your financial goals, and prioritizes your community.
Are Old Mission's hours changing?
No. The hours will remain the same.
Sault Ste. Marie
Lobby Hours:
Monday – Friday, 9:00 am – 5:00 pm
Drive-thru Hours:
Monday – Thursday, 8:30 am – 5:30 pm
Friday 8:30 am – 6:00 pm
Saturday 9:00 am – 12:00 pm
Lobby Hours:
Monday – Friday 8:30 am – 5:00 pm
Drive-thru Hours:
Monday – Friday 8:30 – 5:00 pm
Will there be a new routing number?
Yes. Old Mission will transition to 4Front Credit Union's routing number.
4Front's Routing Number: 272485385
Will I have a new account number?
Your account number will remain the same unless otherwise notified.
Will I need to update my direct deposit?
Yes. Starting November 2, if you have an employer, social security, or any other direct deposit, you must update your routing number. Download our direct deposit setup document or visit your nearest branch for assistance.
4Front Routing Number: 272485385
Will I receive new checks?
Yes, you will receive your 4Front checks.
Will I receive a new Debit Card?
Yes, you will receive your 4Front debit card.
What will happen to my safety deposit box?
We ask all Old Mission customers with a safety deposit box to empty them by December 31, 2023, as the service will be discontinued. We apologize for the inconvenience.
Will 4Front accept Canadian checks for deposit? Will there be fees or a hold placed on the checks?
Yes, we will accept Canadian checks. There will be a $20 fee per item, and a 30-day hold will be placed on the check.
Will my money be FDIC insured?
No, but don't worry. We've got you covered! Your money will be insured by the NCUA up to $250,000.
We heard you will be getting rid of tellers and the drive-thru's. Is that true?
No. All Old Mission staff will become 4Front Credit Union team members, and the drive-thrus will remain open.
Does 4Front Credit Union give back to the community?
Absolutely! 4Front Credit Union is very active in its communities. Our team volunteered over 1,669 hours in 2022. After seeing the increasing need within the community, we introduced the 4Front Foundation in 2021. The 4Front Foundation was created around four pillars of giving; scholarships, grants, financial wellness, and emergency crisis relief.
Will I need a new online banking username/password?
Yes. You will need to register for 4Front Credit Union's Online Banking.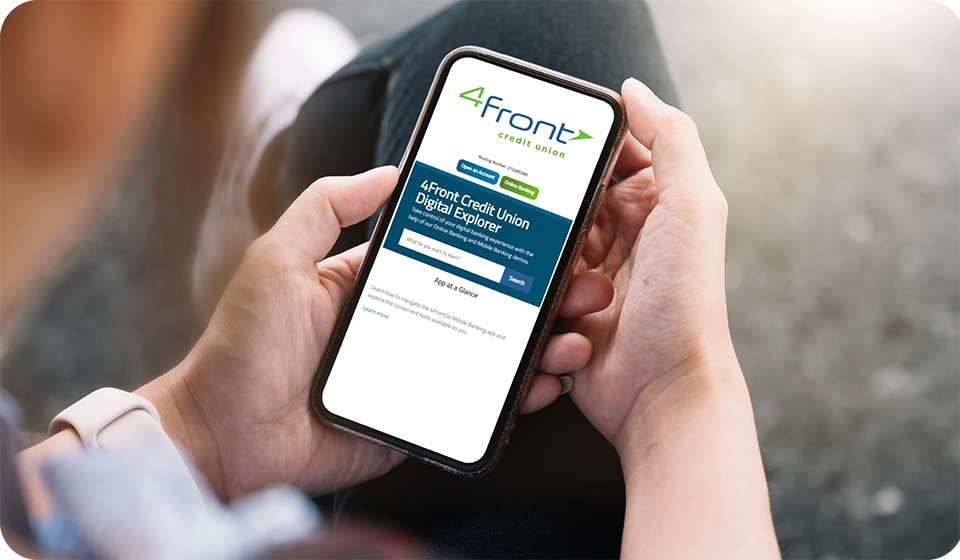 Online Banking at a Glance
This interactive demo will go over all the features our Online Banking has to offer.
Does 4Front Credit Union have a mobile app?
Yes. You can download 4FrontGo in the Apple Store or Google Play Store.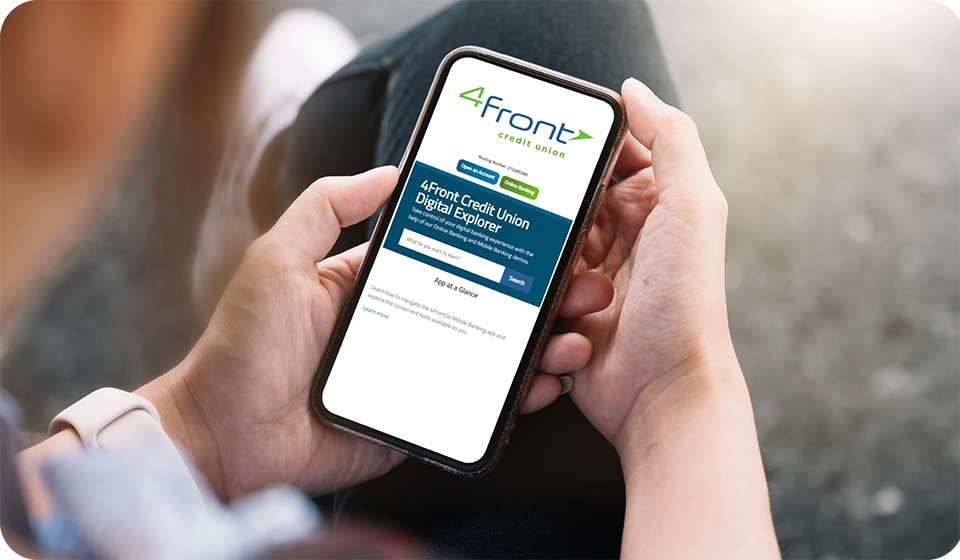 App at a Glance
Learn how to navigate the 4FrontGo Mobile Banking app and explore the convenient tools available to you.
Do 4Front Credit Union's accounts have maintenance fees?
Some of our accounts do have maintenance fees. You can learn more about our fees by selecting the Personal Fee Schedule or Business Fee Schedule buttons below.